I always tell people (who ask) that I love living in New York City especially in the months that end in "ber". That would be September, October, November, December; or more simply put, Fall. The streets tend to stink less. The subways are less stuffy. And I get to wear more flattering clothing. Stuff with a little more texture; a little more heft. I prefer my sweaters to my t-shirts. My cords to my shorts. My brogues to my Sperry's. Each Fall I take a close look at what I have, what I haven't worn in a couple of years, and what new stuff I might want to buy. And to this day, I always look first to J.Crew. 
Despite recent negative press, J.Crew still puts out a fine selection of menswear. While I now look to shops like Uniqlo for oxford shirts and outerwear, and to Bonobos for dressier chinos, dress shirts, and (perhaps) suiting, I still love the Crew for sweaters, jeans and cords, sport jackets, other casual shirts, t-shirts, socks, and more. Here is a selection of some great looking new Fall arrivals…
I really like what J.Crew has done here with the textures, colors, and fits. One new interesting family of items is the softspun sweaters. They come in v-neck, crew neck, and cardigan versions, and feature a blend of Merino wool, viscose, polyamide, & alpaca. (photo at top)
The Cotton-Nylon X250 Hooded Jacket is also a cool piece. It is essentially a shell made for cool, but not cold, rainy weather. They suggest pairing it with the Primaloft jacket or vest for added warmth. It actually zips in, though you could just as easily slide a Uniqlo Ultra Lightweight Down jacket underneath, and nobody would know the difference. Come to think of it, Uniqlo also has a similar parka at about half the price.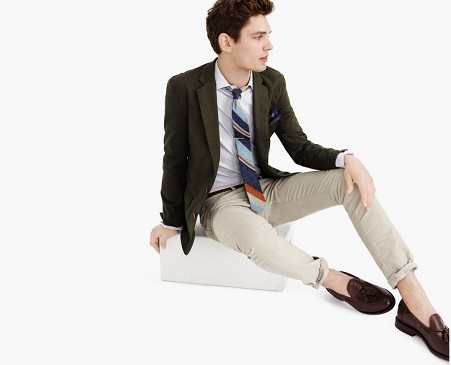 On another note, the Garment Dyed Sport Jacket I mentioned in my earlier Fall post has disappeared from the J.Crew site. I mentioned that the fit was off, and even wrote it in a review. One person countered my review saying the fit was fine, but I wonder if others felt the way I did, and they pulled it? I'm sure I could inquire within if I really wanted the answer.
If anyone reading this purchases any of the items I've listed, please let me know what you think either in a comment or in an email. Thanks for reading!
UPDATE 8/19 | The Ludlow Sportcoat in Italian Garment-Dyed Cotton is back on JCrew.com. Not sure why it was absent yesterday. Perhaps it was resting.