Good morning friends and other strangers. After a busy week and a half I am back with a new post, and hopefully a bit of inspiration for those of you who want and/or need to dress well, but may be a bit limited either by funds, or access, or creativity. Doesn't matter. I am here to help you. 
This past weekend, I had the pleasure of attending a formal event for which the required attire was black tie. Repeat, black tie. This means black tie is not optional. This means wearing a tuxedo of some sort. This could also mean spending money on a new or rental tuxedo, or not depending on your finances. Full disclosure – my current finances are limited. I don't currently own a tux. If I were to acquire a tux, I would want it to be something well made that I could keep for years. And I refuse to rent – call me a snob. But this past weekend, I still needed to look the part. Instead of throwing in the towel and not going, or biting the bullet and spending money I don't have, I decided to see what I could do with the items I already had in my closet.
I started with my dark navy J.Crew Ludlow Suit.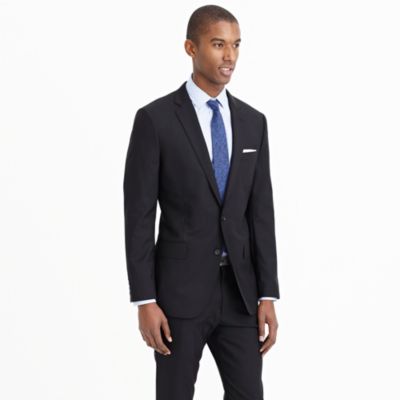 While it is not exactly formalwear, many tuxedos these days are in fact made in midnight blue – a color many believe to be more elegant than the standard black. It did not have the satin lapel or satin-covered buttons one would come to expect from a tuxedo, but nobody was looking at me that closely anyway.
I paired this with a white French cuffed shirt from Hickey Freeman, silky black socks, a black leather belt (buckled at the side to create the illusion of a shiny, belt-less waistband,) and black Alden Medallion Tip Calfskin Balmoral shoes buffed to a high shine.
I topped it all off with a pair of sterling silver cuff-links, a vintage Longines watch with a black croc embossed strap, a black satin self-tie bow tie from The Tie Bar (no longer available. Link is to closest similar style), and a pressed white cotton pocket square. The only money I spent was to have the sleeves shortened on the shirt as it was a sample sale pick-up from a number of months back that I simply hadn't gotten around to altering yet. Everything else was ready and available.
Prior to arriving, I asked another party guest (not my wife) whether or not she could tell that I wasn't wearing a tuxedo. She couldn't. Nailed it! I think what allowed me to get away with this hack was the fact that I properly accessorized to make the suit look more formal. I don't think it would have worked with a straight tie regardless of the sheen. It also helped that the event was a wedding, and that all eyes were on the stunning bride (and her husband.) For the record, my eyes were on my beautiful wife who looked nothing less than stunning in her gown (procured at Rent The Runway.)