If you follow me on Instagram, you'll know I vowed to go through my closet this weekend, and to remove and sell items I haven't worn in some time. Since becoming a father 3 1/2 years ago, and spending most of my money on things for my daughter, I have really tried hard to not any items to my closet without purging at least a few. I haven't started yet, but I know I have some ill-fitting dress shirts, oversized outerwear, and jeans with blown out crotches that should probably go. I would like to be able to fill up one or more large shopping bags with stuff I want to sell. And I'd like to take at least $500 away to put towards a few new purchases. Because it's best to pay a little more for fewer, better items, right? By the opening act of spring I'd like to add a few key items to my wardrobe…
First I've been hearing a lot of good things about Kamakura shirts. The Japanese company has perfected the dress shirt and OCBD, and is selling them at reasonable prices…or so I have heard. I won't know for sure until I try them. I would like 2-3 simple shirts that could take me from business meetings to an afternoon drink and dinner. This, assuming I'm on a business trip and my daughter is not there to fuss us out of the restaurant before the main course arrives. I would love to try one of their OCBD's, but to start I think I would go with this simple spread collar royal oxford in light (but not too light) blue.
Next I'd like to update my raincoat. It rains in spring. A lot. Especially in New York City. A few years back I purchased a navy blue raincoat with a removable lining from Uniqlo. I still love the coat, but it's starting to wear down where the buttons meet the top fabric, and it gets boring dressing head to toe in dark colors after a while. I tend to wear khaki chinos in the spring, so to avoid going khaki on khaki I like the idea of this olive green rain coat from J.Crew. It is supposed to be rain-repellent, and is unlined. But I could always add a thin vest underneath on colder days.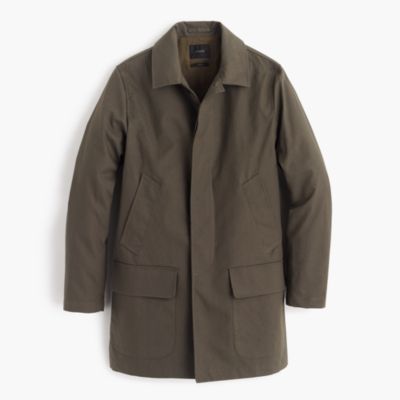 In my last post, I vowed to drop 10-15 lbs this winter. I'm off to a good start this week having shed 1 whole pound. The more I lose, the more my pants won't fit. This past Fall Sid Mashburn introduced a line of denim jeans in both selvedge and non-selvedge. I personally don't feel the need to pay extra for selvedge. I really like the look of these rinsed dark denim slim-straight jeans. I don't do skinny jeans. My legs are too thick from running and biking and, well I'm almost 40. I think jeans should be slim, but not skin tight. Comfortable while still being tailored. Now, whether I will choose to tailor the hem or roll them is to be determined.
Finally, I'd like to add a new pair of casual suede loafers. I love Allen Edmonds shoes. They are classic and stylish and most are quite comfortable. I feel a casual suede loafer like this straddles the line between a dress shoe and a boat shoe, and would look good with dark denim or non-khaki chinos (or khaki if they are lighter) or even shorts. The trick is going to be deciding which shoes to purge from my closet. I'm thinking the Cole Haan bit loafers I purchased toward the end of last summer. I've worn them twice, and well they're just not me.
Other items I'd like would be some new plain t-shirts, a pair of lighter wash jeans, a green ball cap, and perhaps another pair of canvas sneakers. But first things first…